My Blog
Posts for tag: bridgework
By Brilliant Smiles Dental
April 13, 2018
Not long ago the dental bridge was the alternative treatment of choice to partial dentures for restoring lost teeth. Over the last few decades, however, dental implants have nudged bridgework out of this premier spot.
That doesn't mean, though, that bridgework has gone the way of the horse and buggy. In fact, it may still be a solid restorative alternative to partial dentures for certain people.
A traditional bridge consists of a series of porcelain crowns affixed to each other like pickets in a fence. The end crowns are fitted onto the teeth on either side of the empty tooth space; known as abutment teeth, they support the bridge. The crowns in the middle, known as pontics (from the French for "bridge"), replace the teeth that have been lost.
Bridges have been an effective and cosmetically pleasing method for tooth replacement for nearly a century. To achieve those results, though, a good portion of the abutment teeth's structure must be removed to accommodate the crowns. This permanently alters these teeth, so they'll require a restoration from that point on.
Dental implants, on the other hand, can be installed in the missing space without impacting any neighboring teeth. What's more, implants provide greater support to the underlying bone than can be achieved with bridgework.
But not everyone is a viable candidate for implants, and ironically the reason most often has to do with the bone. If a patient has suffered significant bone volume loss, either because of disease or the long-term absence of the natural teeth, there may not be enough bone to properly support an implant. Unless we can adequately restore this lost bone volume through grafting, we'll need to consider another type of restoration.
That's where bridgework could be a viable option for patients in this or similar situations. With continuing advances in materials and new applications, the traditional bridge still remains an effective and important means to restore a smile marred by missing teeth.
If you would like more information on dental restoration options, please contact us or schedule an appointment for a consultation. You can also learn more about this topic by reading the Dear Doctor magazine article "Crowns & Bridgework."
By Brilliant Smiles Dental
April 02, 2014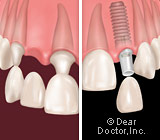 When a natural tooth can't be preserved, it is important to have it replaced as soon as possible. Presently, there are two excellent tooth-replacement systems in wide use: traditional bridgework and high-tech dental implants. What's the difference between the two methods?
Essentially, it comes down to how the replacement tooth is secured in the mouth. In the dental implant system, a natural looking prosthetic tooth is solidly anchored in place by a screw-like titanium implant. This is inserted directly into the bone of the jaw in a minor surgical procedure, and over a short period of time (usually 6 – 12 weeks) its titanium metal structure will actually become fused with the living bone.
With bridgework, however, the support for the prosthetic tooth (or teeth) comes from the healthy teeth adjacent to it. These teeth must be prepared (shaped) by carefully removing some of the outer tooth material (enamel and some dentin), which enables them to be fitted with coverings called crowns or caps. Crowns are often used on their own, to restore teeth that are missing too much of their structure to be treated effectively with standard fillings. But the bridgework system goes one step further.
Instead of making individual crowns for each tooth, a dental lab will fabricate a bridge — a single unit consisting of crowns for the prepared teeth, plus complete prosthetics to replace the missing tooth (or teeth). A three-unit bridge, for example, consists of one complete prosthetic tooth to replace the one that's missing, plus two crowns for the adjacent "abutment" teeth. It's possible to have larger bridges as well: For example, a six-unit bridge might consist of two complete prosthetic teeth in the center, with two crowns for abutment teeth on each end, all linked together in one piece.
While bridgework has been used effectively for decades, it is now being gradually supplanted by dental implants. Implants don't require the removal of healthy tooth material from abutment teeth, and they don't place extra stress on those teeth; plus, they generally last much longer than natural tooth bridges. However, the dental bridge remains a viable alternative for tooth replacement in many circumstances.
If you would like more information about dental bridgework, please call our office to arrange a consultation. You can learn more in the Dear Doctor magazine article "Crowns & Bridgework."