My Blog
Posts for: January, 2013
By Brilliant Smiles Dental
January 15, 2013
Oral cancer is on the rise in the United States, yet few people are familiar with the disease and its risk factors. The National Institute of Dental and Craniofacial Research (NIDCR) estimates that 35,000 Americans are diagnosed with the disease each year. The good news is that prevention and early detection can greatly reduce your risk of developing oral cancer.
Risk Factors for Oral Cancer Include:
Tobacco: Smoking and using chewing tobacco have been shown to increase the risk of developing oral cancer.
HPV virus: The Human Papilloma Virus (HPV) is the same virus linked to cervical cancer and genital warts. According to the Oral Cancer Foundation (OCF), many young people and women are being diagnosed with oral cancer as a result of exposure to the HPV virus.
Age: Although it occurs more frequently in people over the age of 40, the incidence is increasing in younger people.
Alcohol Consumption: Oral cancer is six times more common in those who drink alcohol excessively.
Diet: People who consume lots of red and processed meat and fried foods are at greater risk.
Symptoms: Alert our office if you notice a change in your mouth such as a sore that doesn't heal or bleeds easily; a lump, thickening, crust or erosion; pain or tenderness; or a change in the way your teeth are positioned. Our office can administer an easy, painless test that detects abnormal cells.
Other symptoms may include unexplained bleeding or numbness in the mouth, difficulty chewing, swallowing or speaking, hoarseness, chronic sore throat or changes in your voice.
Importance of Dental Screenings: In its early stages, oral cancer can often go unnoticed, but visiting our office regularly can ensure that any cancerous cells are detected and treated early. Our office will check your tongue and the area under your tongue, as well as your lips and palate and the back of your mouth.
Contact us today to schedule an appointment to discuss any questions that you may have regarding oral cancer. Read more about this topic in the Dear Doctor magazine article "Oral Cancer: This Article May Save Your Life."
By Brilliant Smiles Dental
January 05, 2013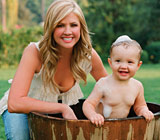 During Nancy O'Dell's interview with Dear Doctor magazine, the former co-anchor of Access Hollywood and new co-anchor of Entertainment Tonight could not resist her journalistic instincts to turn the tables so that she could learn more about a baby's oral health. Here are just some of the facts she learned from the publisher of Dear Doctor about childhood tooth decay, pacifier use and what the right age is for a child's first visit to the dentist.
Many moms-to-be and parents or caregivers of young children are surprised to learn that around age 1 is the ideal time to schedule a child's first visit to the dentist. This visit is crucial because it sets the stage for the child's oral health for the rest of his or her life. It can also be quite beneficial for the parents, too, as they can be reassured that there are no problems with development and that the child's teeth appear to be growing properly. And if by chance we identify any concerns, we will discuss them with you as well as any necessary treatment strategies.
Nancy also wanted to learn more about pacifiers — specifically, if it is a good idea for parents to encourage their use. Obviously, children are born with a natural instinct for sucking, so giving a child a pacifier seems totally harmless. Pacifiers definitely have some advantages; however, if used for too long — past the age of 18 months — they can cause long-term changes in the child's developing mouth (both the teeth and the jaws).
Another problem that parents and caregivers need to be aware of is baby bottle syndrome. This is a condition that develops in children who are perpetually sucking on a baby bottle filled with sugary fluids such as formula, fruit juices, cola or any liquids containing a large amount of sugar, honey or other sweeteners. It is important to note that a mother's own breast milk or cow's milk are good choices for feeding babies, as they both contain lactose, a natural sugar that is less likely to cause decay. However, if these liquids are placed in a bottle and a child is allowed to suck on it throughout the night, they, too, can promote tooth decay. The key is to feed your child properly while avoiding all-night feedings and liquids loaded with sugar.
To read the entire Dear Doctor magazine article on Nancy O'Dell as well as to learn more about a baby's oral health, continue reading "Nancy O'Dell — A life full of smiles." Or you can contact us today to schedule an appointment so that we can conduct a thorough examination, listen to your concerns, answer your questions and discuss any necessary treatment options.