My Blog
Posts for: April, 2013
By Brilliant Smiles Dental
April 20, 2013
Compared to traditional braces, orthodontic clear aligners seem miraculous in many ways, almost too good to be true. You may be wondering if they really work. The answer is yes — but they are not for everyone.
What are orthodontic aligners and how do they work?
Clear orthodontic aligners are an alternative to traditional braces that are used to move your teeth and transform your smile without much interference to your daily life. They are removable trays made of a clear plastic material that is essentially invisible.
When using aligners, a sequence of slightly different trays is custom-made to fit over your teeth. You must wear each one 20 hours a day for two weeks before changing to the next in the series. The aligners are computer generated, designed by state-of-the-art techniques based on models and images of your own teeth. They work because slight changes in the sequential aligners gradually shift your teeth. If they are worn consistently, the process takes from six months to two or three years.
Advantages over traditional braces are:
The aligners can be removed for eating, drinking, brushing, flossing and social occasions.
They have no rough edges or wires, making them more comfortable.
Changes become visible quickly as your teeth move into their new, better positions.
Clear aligners are a good solution for correcting mild to moderately crowded or incorrectly spaced teeth. They are most effective if your back teeth already fit together properly. Clear aligners are usually effective in correcting simpler or tipping movements of teeth in two dimensions. For more complex movements, traditional braces may be required. Clear aligners are usually recommended for adults whose teeth and jaws are fully developed, and not for children.
When do you need traditional fixed braces?
Traditional braces are fixed brackets attached to the teeth through which narrow, flexible wires are threaded. They may be necessary if your teeth do not meet properly, creating too much overbite or underbite. Closing spaces where teeth are missing, rotating teeth, or other complicated situations probably make you a better candidate for traditional braces.
Each particular situation is unique. To find out if clear aligners are right for you, make an appointment with us for an assessment and diagnosis of your own situation. For more information see the Dear Doctor magazine article "Clear Orthodontic Aligners."
By Brilliant Smiles Dental
April 04, 2013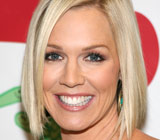 Plenty of parents use little tricks to persuade young ones to eat their vegetables, wash their hands, or get to bed on time. But when actress Jennie Garth wanted to help her kids develop healthy dental habits, she took it a step further, as she explained in a recent interview on Fox News.
"Oh my gosh, there's a froggy in your teeth!" the star of the '90s hit series Beverly Hills 90210 would tell her kids. "I've got to get him out!"
When her children — daughters Luca, Lola, and Fiona — spit out the toothpaste, Garth would surreptitiously slip a small toy frog into the sink and pretend it had come from one of their mouths. This amused the kids so much that they became engaged in the game, and let her brush their teeth for as long as necessary.
Garth's certainly got the right idea. Teaching children to develop good oral hygiene habits as early as possible helps set them up for a lifetime of superior dental health. Parents should establish a brushing routine with their kids starting around age 2, when the mouth is becoming filled with teeth. A soft, child's size toothbrush with a pea-sized dab of fluoride toothpaste and plenty of parental help is good for toddlers. By around age 6, when they've developed more manual dexterity, the kids can start taking over the job themselves.
Here's another tip: It's easy to find out how good a cleaning job your kids are doing on their own teeth. Over-the counter products are available that use a system of color coding to identify the presence of bacterial plaque. With these, you can periodically check whether children are brushing effectively. Another way of checking is less precise, but it works anywhere: Just teach them to run their tongue over their teeth. If the teeth fell nice and smooth, they're probably clean, too. If not... it's time to pull out the frog.
And don't forget about the importance of regular dental checkups — both for your kids and yourself. "Like anything, I think our kids mirror what we do," says Garth. We couldn't agree more.
If you need more information about helping kids develop good oral hygiene — or if it's time for a checkup — don't hesitate to contact us and schedule an appointment. You can learn more in the Dear Doctor magazine article "How to Help Your Child Develop the Best Habits for Oral Health."