My Blog
Posts for: July, 2013
By Brilliant Smiles Dental
July 30, 2013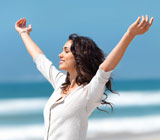 Have you been avoiding seeing a dentist because you are afraid that the visit might be unpleasant or painful? Are you unhappy with the appearance of your teeth and the health of your mouth, even envious of others who are able to visit their dentist without hesitation?
If you've answered yes to these questions, you are not alone. Many people experience some anxiety about visiting their dentist. Some fears are based on past negative experiences, indirectly influenced by family members or friends, or even by images seen in the movies. Regardless of the origin of your fear, we will work with you to turn negative perceptions or experiences into positive ones. The most important thing to remember is that allowing dental problems to remain untreated can have bad consequences, including toothache, infection, poor appearance and even general health complications.
We will listen to you and even encourage you to express your feelings. Tell us the details of your fear and anxiety. You won't be judged but, instead, we want to understand exactly what troubles you, so that together we help you overcome what is preventing you from getting the care you want and need.
You will be in control at all times and we will never rush you. First we'll spend the time necessary to get you comfortable, before we even do any dentistry. After all, attempting to rush through a procedure may only incite more anxiety, and that is the last thing we want to do! We want you to leave our office with the feeling that you can more comfortably see us again building on your last positive experience.
If you would like to talk to us about what's bothering you and begin working together towards a solution, please call us today to schedule a consultation. To learn more about how patients and dentists can work together to eradicate dental fear, read the Dear Doctor magazine article "Overcoming Dental Fear & Anxiety."
By Brilliant Smiles Dental
July 15, 2013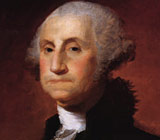 Everyone knows that George Washington wore false teeth. Quick, now, what were our first President's dentures made of?
Did you say wood? Along with the cherry tree, that's one of the most persistent myths about the father of our country. In fact, Washington had several sets of dentures — made of gold, hippopotamus tusk, and animal teeth, among other things — but none of them were made of wood.
Washington's dental troubles were well documented, and likely caused some discomfort through much of his life. He began losing teeth at the age of 22, and had only one natural tooth remaining when he took office. (He lost that one before finishing his first term.) Portraits painted several years apart show scars on his cheeks and a decreasing distance between his nose and chin, indicating persistent dental problems.
Dentistry has come a long way in the two-and-a-half centuries since Washington began losing his teeth. Yet edentulism — the complete loss of all permanent teeth — remains a major public health issue. Did you know that 26% of U.S. adults between 65 and 74 years of age have no natural teeth remaining?
Tooth loss leads to loss of the underlying bone in the jaw, making a person seem older and more severe-looking (just look at those later portraits of Washington). But the problems associated with lost teeth aren't limited to cosmetic flaws. Individuals lacking teeth sometimes have trouble getting adequate nutrition, and may be at increased risk for systemic health disorders.
Fortunately, modern dentistry offers a number of ways that the problem of tooth loss can be overcome. One of the most common is still — you guessed it — removable dentures. Prosthetic teeth that are well-designed and properly fitted offer an attractive and practical replacement when the natural teeth can't be saved. Working together with you, our office can provide a set of dentures that feel, fit, and function normally — and look great too.
There are also some state-of-the art methods that can make wearing dentures an even better experience. For example, to increase stability and comfort, the whole lower denture can be supported with just two dental implants placed in the lower jaw. This is referred to as an implant supported overdenture. This approach eliminates the need for dental adhesives, and many people find it boosts their confidence as well.
If you have questions about dentures, please contact us or schedule an appointment for a consultation. You can learn more in the Dear Doctor magazine articles "Removable Full Dentures" and "Implant Overdentures for the Lower Jaw."