My Blog
Posts for: September, 2014
By Brilliant Smiles Dental
September 23, 2014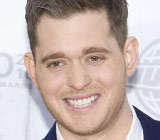 What happens if you're right in the middle of a song, in front of an arena full of fans… and you knock out a tooth with your microphone? If you're Michael Buble, you don't stop the show — you just keep right on singing.
The Canadian song stylist was recently performing at the Allphones Arena in Sydney, Australia, when an ill-timed encounter with the mike resulted in the loss of one of his teeth. But he didn't let on to his dental dilemma, and finished the concert without a pause. The next day, Buble revealed the injury to his fans on his Instagram page, with a picture of himself in the dentist's chair, and a note: "Don't worry, I'm at the dentist getting fixed up for my final show tonight."
Buble's not the only singer who has had a close encounter with a mike: Country chanteuse Taylor Swift and pop star Demi Lovato, among others, have injured their teeth on stage. Fortunately, contemporary dentistry can take care of problems like this quickly and painlessly. So when you've got to get back before the public eye, what's the best (and speediest) way to fix a chipped or broken tooth?
It depends on exactly what's wrong. If it's a small chip, cosmetic bonding might be the answer. Bonding uses special tooth-colored resins that mimic the natural shade and luster of your teeth. The whole procedure is done right here in the dental office, usually in just one visit. However, bonding isn't as long-lasting as some other tooth-restoration methods, and it can't fix large chips or breaks.
If a tooth's roots are intact, a crown (or cap) can be used to replace the entire visible part. The damaged tooth is fitted for a custom-fabricated replacement, which is usually made in a dental laboratory and then attached at a subsequent visit (though it can sometimes be fabricated with high-tech machinery right in the office).
If the roots aren't viable, you may have the option of a bridge or a dental implant. With a fixed bridge, the prosthetic tooth is supported by crowns that are placed on healthy teeth on either side of the gap. The bridge itself is a one-piece unit consisting of the replacement tooth plus the adjacent crowns.
In contrast, a high-tech dental implant is a replacement tooth that's supported not by your other teeth, but by a screw-like post of titanium metal, which is inserted into the jaw in a minor surgical procedure. Dental implants have the highest success rate of any tooth-replacement method (over 95 percent); they help preserve the quality of bone on the jaw; and they don't result in weakening the adjacent, healthy teeth — which makes implants the treatment of choice for many people.
So whether you're crooning for ten thousand adoring fans or just singing in the shower, there's no reason to let a broken tooth stop the show: Talk to us about your tooth-restoration options! If you would like additional information, please contact us or schedule an appointment for a consultation. You can learn more by reading the Dear Doctor magazine articles "Repairing Chipped Teeth" and "Dental Implants vs. Bridgework."
By Brilliant Smiles Dental
September 08, 2014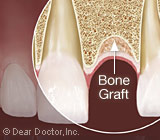 A dental implant can permanently restore the form and function of a missing natural tooth. But there's an important prerequisite for this smile-transforming therapy — you must have enough bone remaining at the implant site to securely anchor the implant and ensure proper crown placement for the most natural looking result.
Patients who don't meet this prerequisite may need to consider other restorative options. In some cases, however, we may be able to encourage sufficient bone growth to support an implantation through a technique called bone grafting.
Bone grafting involves opening the gum tissues at the intended implant site to expose the underlying bone. We then place the grafting material (usually a processed material) around the bone, sometimes with collagen membranes that serve as subterranean band-aids to guide bone growth. In most cases, the graft is actually a scaffold for the natural bone to grow upon; the natural bone will eventually replace the graft material. The procedure is normally performed with local anesthesia to minimize discomfort.
While bone grafting is a fairly routine procedure, it shouldn't be undertaken unless there's a firm prognosis it can successfully support a future implant. We must therefore determine if anything else in your oral health would disqualify you as an implant candidate, even if sufficient bone existed or not. We must also determine if there's enough remaining bone currently at the site to even attach a bone graft.
Once we're satisfied that bone grafting would be both possible and helpful, we must then consider what type of grafting material to use. If we're only replacing one tooth we may choose to use an autograft, bone material taken from another area of your own body. Although autografts have advantages because of their regeneration ability, it does involve creating another surgical site within the body. In most cases we may use processed materials, for example allografts, material that originates from another human being; xenografts, taken from another species of animal; or synthetic (man-made) materials. Regardless of the source, these materials are first processed to be safe for human use.
If successful, the regeneration process will result in enough new bone structure to make dental implants a reality. Your mouth will be healthier — and your resulting smile will be more beautiful than ever.
If you would like more information on bone grafting, please contact us or schedule an appointment for a consultation. You can also learn more about this topic by reading the Dear Doctor magazine article "Can Dentists Rebuild Bone?"