My Blog
Posts for: February, 2015
By Brilliant Smiles Dental
February 27, 2015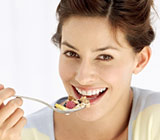 What and how you eat and drink has a significant impact on the health of your teeth and gums. Therefore, an effective oral hygiene regime must take your diet into account.
Acid is your teeth's enemy; it can erode their protective enamel coating (a process called demineralization). Certain foods and beverages (such as citrus drinks and coffee) contain it, and it's produced by bacteria in your mouth that feed on dietary sugar and release acid as a byproduct (a process called fermentation). Your allies are foods and beverages that neutralize acids, provide minerals and vitamins to repair tooth enamel, and stimulate saliva.
Sugar & Decay
Sugars, the leading promoter of dental decay, exist in many forms in our diet. Some occur naturally, while others — referred to as "free sugars" — are added by the manufacturer, cook or consumer. The latter are most often linked with decay. Soft drinks are the primary source of dietary free-sugars in the U.S.
Sugars in fruit, vegetables, milk and unprocessed, starch-rich foods such as rice, potatoes and whole grains, do not appear to be harmful to teeth. Note, however, that dried fruits contain a highly concentrated sugar level and can stick to tooth surfaces. The sugar substitutes xylitol and sorbitol appear not to promote decay. In fact, there's evidence that chewing xylitol-sweetened gum three to five times daily for at least five minutes (after meals) stimulates saliva flow, which helps protect against decay.
Acids & Erosion
In addition to eroding tooth enamel, acidic foods and beverages create an environment where it's easier for decay-promoting bacteria to flourish. Saliva can reduce acidity but it must have time to work, at least 30–60 minutes. That's why behaviors that maintain acid levels, such as sipping coffee throughout the day, can be harmful.
Saliva-Promoting Saviors
Saliva is a front-line defense against erosion and decay. It helps remove food particles and contains minerals that help neutralize acid and promote remineralization of the tooth surface. Foods that stimulate saliva and/or contribute essential minerals include:
Cheese — stimulates saliva and is rich in calcium, contributing to the re-calcification of teeth and protecting against the loss of calcium,
Cow's milk — contains decay-counteracting calcium, phosphorous and casein,
Plant foods — are fibrous and require chewing, which mechanically stimulates saliva,
Water — keeps you hydrated, which is important for saliva production and preventing dry mouth (a condition that promotes acid-producing bacteria), and helps wash away food particles; fluorinated water bestows the protective properties of fluoride (a compound that makes tooth enamel more resistant to acid erosion and promotes re-calcification).
As you can see, brushing and flossing effectively is just part of the oral hygiene equation.
If you would like more information about nutrition and oral hygiene, please contact us or schedule an appointment for a consultation. You can also learn more about this topic by reading the Dear Doctor magazine article "Nutrition & Oral Health."
By Brilliant Smiles Dental
February 12, 2015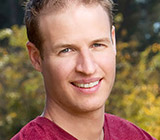 If you follow the hit TV reality show Amazing Race, you know that professional-hockey-playing brothers Bates and Anthony Battaglia won the $1 million prize in the latest globe-spanning competition. You may also have witnessed Anthony removing his false front teeth from time to time — like when he had to dive for pearls in Bora Bora. Since he plans to resume his sports career, Anthony wears a partial denture to fill the gap in his classic "hockey mouth." He has said that when he finally hangs up his skates, he will use some of his Amazing Race prize money to get new, permanent teeth. When it's time to get that new smile, Anthony, like many people, will have to choose between two good options for permanent tooth replacement.
The preferred option for most people is dental implants. In this system, tiny titanium posts substitute for the root part of your missing tooth (or teeth). These are placed beneath your gum line in a minor surgical procedure we perform right here at the dental office. The amazing thing about dental implants is that they actually fuse to your jawbone, allowing your replacement teeth to last a lifetime.
The titanium implant itself is not visible in the mouth; the part of an implant tooth that you see is the lifelike crown. Virtually indistinguishable from your natural teeth, the crown is attached to the implant above the gum line. Dental implants can be used to replace a single tooth, multiple teeth, or even all your teeth. You don't necessarily need one implant for every tooth because implants can support bridgework or even a complete set of prosthetic teeth.
The second-best option is a natural-tooth fixed bridge. In this system, we use healthy natural teeth on either side of the empty space left by a missing tooth (or teeth) as supports for one or more of the prosthetic teeth that will fill the gap. The downside is that in order to turn these healthy teeth into supports (which are referred to in dentistry as "abutments"), we need to remove some enamel and then cap them. This procedure can leave those teeth more prone to decay than they were before. But with regular dental exams and good oral hygiene on your part, bridgework can last many years.
Which system is right for you? That's a question we would be happy to help you determine... even if you haven't won a large jackpot or gone pearl diving in Bora Bora. If you've been looking forward to the day when you can have permanent replacement teeth, why wait? Contact us or schedule an appointment for a consultation. We will help you find your ideal solution to the problem of missing teeth! For more information, please see the Dear Doctor magazine articles "Dental Implants vs. Bridgework" and "Dental Implants: Your Third Set of Teeth."