My Blog
Posts for: March, 2015
By Brilliant Smiles Dental
March 24, 2015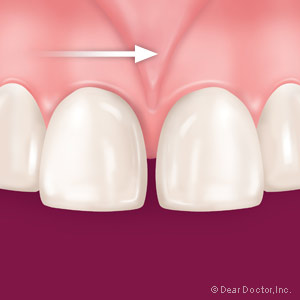 The various structures in your mouth — your teeth and gums, of course, as well as periodontal tissues that hold teeth in place within the jaw — all function together to create your smile. This includes muscles like the frenum, a fold of muscle tissue that connects the gums to the upper lip, which helps pull the lip upward when you smile.
Unfortunately, an overly large frenum could contribute to an unattractive space between your two upper front teeth. The problem occurs when the frenum grows beyond its normal range and runs between the front teeth to connect with the gums behind them at the forefront of the roof of your mouth. The resulting space that may develop can be closed with orthodontics, but unless the excess frenum tissue is addressed the space may eventually reopen.
The frenum is just one cause among many for a noticeably wide space, including bite problems (malocclusions), finger-sucking habits or missing teeth. We would, therefore, need to examine your mouth to determine the exact cause before beginning any treatment. If indeed the frenum is the source of the problem, it will be necessary to ultimately remove the excess portion through a procedure known as a frenectomy.
A frenectomy is a minor surgical procedure performed by a periodontist, oral surgeon or a general dentist with surgical training. After numbing the area with local anesthesia, the tissue behind the teeth is dissected or reduced in size with a small scalpel or a surgical laser. The wound is then closed with a few stitches; any post-surgical discomfort is usually minimal and managed with non-steroidal anti-inflammatory pain medication. The wound will completely heal within a few weeks.
Most frenectomies are performed after orthodontics to close the space. Removing it prior to tooth movement may result in scar tissue that prevents the space from closing. It's also easier for the surgeon to gauge how much tissue to remove after space closure to avoid removing too much, which can leave a "black" triangular hole where gum tissue should normally be.
Treating an abnormally large frenum isn't difficult, but it needs to be coordinated with orthodontic treatment for the best outcome. The end result is a smile that's both healthy and attractive.
If you would like more information on teeth spacing problems, please contact us or schedule an appointment for a consultation. You can also learn more about this topic by reading the Dear Doctor magazine article "Space between Front Teeth."
By Brilliant Smiles Dental
March 09, 2015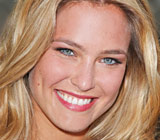 Let's say you happen to be sitting on a plane next to supermodel Bar Refaeli, who was recently voted #1 on Maxim magazine's Hot 100 list. You're a little nervous, but you want to make a good impression. What's the first thing she's going to look at? Your expensive suit? Your sculpted torso? How about — your smile!
"Teeth are the first thing I look at," explained the glamorous cover girl in a Maxim interview. "A nice smile with beautiful teeth is the most attractive thing."
We wholeheartedly agree. But, of course, not everyone is lucky enough to be born with a perfect set of teeth. What to do then?
"Let's just say that with today's orthodontists, I don't understand why people wouldn't fix them," Refaeli stated. Need we say more?
The Israeli supermodel, who has appeared in several Sports Illustrated swimsuit issues, knows what she's talking about. Refaeli started modeling as a young child, but had to put her career on hold for a few years while she got braces. When they came off, at age 11, she began her steady climb to the top of the modeling business.
Plenty of aspiring actors and models — as well as regular folks — get braces as children. But if you're serious about improving your smile, it's never too late to have orthodontic treatment. For adults, there are many options available in addition to the standard metal appliances.
Colorless ceramic braces offer a less noticeable way to correct misaligned teeth. Made of high-tech materials that resist staining, their translucent appearance blends so well with the look of your natural teeth that it can be hard to tell you're wearing them.
Clear aligners are an alternative to braces that are worn 20-22 hours per day. They consist of a series of precision-made, transparent "trays" that gradually straighten your teeth over a period of time. Best of all, you can remove them for special occasions — like meeting a supermodel.
Which type of orthodontic treatment is best for you? Why not come in for a consultation and find out! Working together, we can evaluate your situation and develop an effective, individualized treatment plan that fits your lifestyle.
If you have questions about orthodontic treatment, please contact us or schedule an appointment for a consultation. You can learn more in the Dear Doctor magazine article "Orthodontics For The Older Adult."